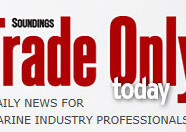 U.S. brokers saw a boost in business in May, selling more boats than in any single month since 2007.
Sales had gradually improved in March and April, compared with 2012, but in May they climbed significantly with 3,730 boats reported sold by YachtWorld member brokerages reporting in their proprietary database at SoldBoats.com. This was well above the five-year May average of 3,293 and more than 100 above 2012, when 3,589 were sold.
Sailboat sales continued to be relatively strong with 607 sold, a 5 percent increase from May 2012. More important for the market as a whole, sales of powerboats rose 4 percent to 3,123.
Better sales were reported among all sizes of boats 45 feet and shorter, with 2,691 closings for boats under 35 feet, a 4 percent gain. In the 36- to 45-foot range, sales were 3 percent higher with 759 boats sold. The only size range that had lower sales was 46 to 55 feet, which was down three boats, compared with May 2012, with 178 sold.